If you are interested in this genre and you would like to write a biographical essay, then first, I suggest you take a closer look at it and find out:
In modern periodicals, there is an active growth of publications specializing in biographical topics. For example, the magazines such as People, Offscreen Magazine, RollingStone, or Vanity Fair.
What Is a Biographical Essay?
A biographical essay is a narrative that briefly describes a person, not fictional, but taken from real life.
The writer's main task is to reveal the inner world of the hero, his or her values, and personality. Just listing facts from a biography will not be enough.
A biographical essay is considered one of the varieties of a story that combines elements of literature and journalism. The "sketching" of such texts is expressed in the fact that the author strives to outline the portrait and character of the hero or to display the main points and contours of the problem. Therefore, often the form of presentation of information is quite rough, and free.
Read also posts:
The Aim of a Biographical Essay
Since the subject of a biographical essay is a personality, the writer's goal is to give the audience a certain idea of the hero of the story. To solve this problem, a journalist, as a rule, first of all, seeks to reveal the most important thing: to show the reader what values the hero serves, in what he sees the meaning of his existence. Because it is an extremely important moment in the life of every person.
Knowledge of the meaning of life, which the hero of the essay serves, is necessary for readers to compare their goals with the goals of other people, which to a certain extent helps to orient themselves in this world and, possibly, correct their actions, and lifestyle.
However, a biographical essay that Brad Pitt professes such and such values, and ideals, would hardly really interest the audience. It is much more interesting and often more important to know how he defends these values, and what difficulties he overcomes, fighting for them. The description of this struggle, actions, and deeds is called the revealing of the character of the hero.
The Features of a Biographical Essay
The main features of a biographical essay are:
Artistic imagery.
Emotional richness.
The writer's opinion.
The subject of a biographical essay is personality.
The events and characters described in the essay are taken from real life.
A biographical essay arises as a result of identifying the character of the hero of the story and analyzing his personality.
Сombining reporting and research (analytical) principles.
To confirm a personal point of view, the author uses facts, evidence, and quotations.
What Methods Can the Writer Use in Writing a Biographical Essay?
The process of writing a biographical essay is quite time-consuming. To write an essay, it is not enough just to choose a topic, to collect and analyze information. The author's task is to rethink the information received and transform it into a special essay form.
There are two methods used in writing essays:
Artistic
Theoretical.
The theoretical method is used when the main subject of the essay is a problematic situation.
But if a journalist needs to write an essay about an interesting person, then an artistic method is used that allows the writer to reveal the strengths and weaknesses of a person, delve into his or her psychology and understand the character of the hero.
The degree of the artistry of the biographical essay may vary depending on its purpose: one text may be more specific and documentary, while the other may be as creative as possible. Thus, in each essay, there should be both artistic creativity and facts in various proportions (depending on the purpose and subject matter).
What Is a Typical Length of a Biographical Essay?
Since this article is primarily about a short biographical essay, its average length is about 500 words (standard A4 page).
How to Write a Biographical Essay
As we have already found out, the subject of a portrait or biographical essay is a person – not a fictional hero, but a person from real life. And the author's task is to create a "portrait" of this person based on the available facts from the biography.
Reading the essay, the audience should understand:
Who is the main character?
What are his/her values?
What influenced his or her formation as a personality?
What are the hero's strengths and weaknesses?
The reader needs to understand the hero's inner world and character.
What to Write About
First, the biographical essay should indicate basic information about the hero: first name, last name, date and place of birth, origin, activities, and main achievements. But it shouldn't look like listing personal data.
In the essay, in the first place is the hero's character and inner world. Therefore, the writer needs, through facts taken from the hero's biography, to reveal, for example, the reasons for his actions, to try to understand how the hero thought when he was in various life situations, how he interacted with other people, etc.
As you can see, essay writing is more of a creative process.
First, you will need to study all the information about the person you are interested in, and only then choose the most striking and remarkable facts, and events from the hero's life. In your biographical essay, write how these events affected the character.
How to Structure an Essay
After all the information has been collected, you should decide how to structure your essay:
Will you talk about the hero of the essay in chronological order, that is, describe phenomena, and events from human life in their time sequence?
Or will you first tell about the most interesting facts from his or her biography, and only then describe the general picture of the hero's life?
Or build your narrative on the principle of logical sequence, which is typical for essay analysis and essay research.
Modern biographical essays use a mixed narrative structure.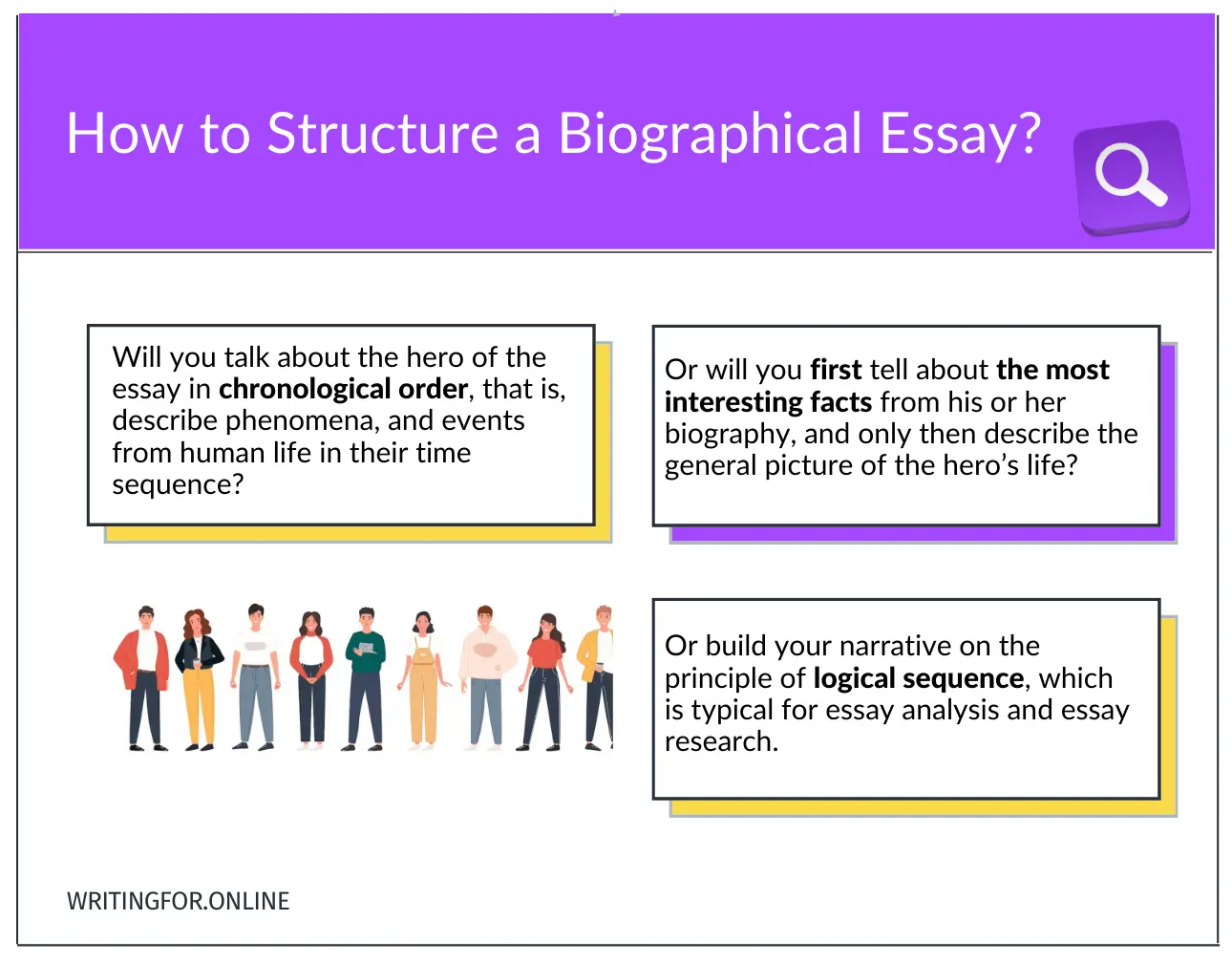 Where to Find Information for Writing an Essay
Of course, the most valuable source of information for a biographical essay will be its primary source – an interview with the hero of the story. If this is not possible, then use only reliable, confirmed, and accurate information. It can be:
personal diaries and letters;
autobiography;
photo and film documents related to the life of the hero and his environment;
personal property;
and, of course, information from the Internet (but only trusted, official sources).
The best biographies are obtained when the journalist is personally acquainted with the person whose life he describes when he can observe the behavior of this person, and be a witness to any of his actions. This enriches the material with the author's impressions, allowing the writer to point out some subtle details in the appearance or character of the hero that other people might not have noticed. Observation is a very effective way of obtaining information, but, unfortunately, it can not always be used. Therefore, the main source of information for modern biographical essays is most often an interview with the hero of a future publication.
The author of the essay, at his discretion, selects facts from the life of the hero, and based on this information creates a holistic image of the hero and then gives the reader the right to draw conclusions, to form a personal opinion about the person.
The Biographical Essay Examples
Example #1
HENRY MORE: A BIOGRAPHICAL ESSAY
By ROBERT CROCKER
Expert:
Henry More was born in Grantham, Lincolnshire, in October 1614, the seventh son of Alexander More, a scion of a large and honourable northern landed family. Brought up in a large Calvinist gentry household, More was sent as a child to the local grammar school in Grantham. After revealing something of his intellectual abilities there, at fourteen his education was taken in hand by a learned uncle, Gabriel More, sometime Fellow of Christ's College in Cambridge, and sent to Eton 'to perfect his Latin'. In a little autobiography included in the General Preface to his Opera omnia (1679), More describes how his rather thoughtful and studious nature early led him into conflict with his uncle and brother over the doctrine of predestination – he was the chastised for 'a forwardness in philosophizing'. Entered under Robert Gell at Christ's in Cambridge in late 1631, More shows himself to have been a gifted poet and an acute and sensitive student, early taking up the difficult subject of metaphysics as the main focus of his energies. However, by the time he graduated, like a number of other intellectual Puritans of his generation, he had become disillusioned with the scholastic masters of his metaphysical studies, and particularly with the apparent incompatibility between their teaching on the nature and origin of the soul and the doctrines of the Church.

Perhaps influenced by Gell, who was clearly interested in the Greek Fathers and their humanist and spiritualist successors, More began to study the 'Platonists and mystical divines', and read in them an approach to the problem of the soul much more attuned, he considered, to the doctrines of the Church. On learning what they had to say about the 'purgative course that is previous to the illuminative', More was particularly inspired, he tells us, by the Theologia Germanica, with its practical emphasis on 'extinguishing the human will' in order to live only by and through the divine. In his General Preface More then recounts how over the next four years (1636-40) he embarked on a period of 'Holy Discipline and Conflict', during which time he felt the 'divine principle' within him gradually triumph over the 'animal nature'. This freed him, he declares, from the 'insatiable Desire and Thirst… after the knowledge of things' which had possessed him during his first inquisitive but unhappy years of study.
Example #2
The biographical essay example (expert):
Stephen Hawking was a scientist known for his work with black holes and relativity, and the author of popular science books like 'A Brief History of Time.'

Hawking was born on January 8, 1942, in Oxford, England. His birthday was also the 300th anniversary of the death of Galileo — long a source of pride for the noted physicist.

The eldest of Frank and Isobel Hawking's four children, Hawking was born into a family of thinkers.

His Scottish mother earned her way into Oxford University in the 1930s — a time when few women were able to go to college. His father, another Oxford graduate, was a respected medical researcher with a specialty in tropical diseases.

Hawking's birth came at an inopportune time for his parents, who didn't have much money. The political climate was also tense, as England was dealing with World War II and the onslaught of German bombs in London, where the couple was living as Frank Hawking undertook research in medicine.

In an effort to seek a safer place, Isobel returned to Oxford to have the couple's first child. The Hawkings would go on to have two other children, Mary and Philippa. And their second son, Edward, was adopted in 1956.

The Hawkings, as one close family friend described them, were an "eccentric" bunch. Dinner was often eaten in silence, each of the Hawkings intently reading a book. The family car was an old London taxi, and their home in St. Albans was a three-story fixer-upper that never quite got fixed. The Hawkings also housed bees in the basement and produced fireworks in the greenhouse.

Source biography.com

Example #3
Singer Adele is a Grammy Award-winning artist whose throwback, soulful sound has made her an international success with hits like "Rolling in the Deep," "Someone Like You" and "Hello."

Adele is a British singer-songwriter who has sold millions of albums worldwide and won a total of 15 Grammys as well as an Oscar. Adele's first two albums, 19 and 21, earned her critical praise and a level of commercial success unsurpassed among her peers. After becoming a mom in 2012, Adele returned to the charts with the ballad "Hello" in 2015, the lead single from what was dubbed her comeback album 25. In 2017, she won five Grammys for her work on 25, including album, record and song of the year.

Early Life, Education and Influences

Adele Laurie Blue Adkins was born on May 5, 1988, in North London, England. Adele was the only child of Penny Adkins, an "arty mom" who was just 18 at the time of her birth, and a Welsh father, Mark Evans, who left the family when Adele was only four years old.

Evans remained in contact with his daughter up until her teen years, when his problems with alcohol and increasing estrangement from his daughter caused their relationship to deteriorate. By contrast, Adele grew close to her mom, who encouraged her young daughter "to explore, and not to stick with one thing."

Early on, Adele developed a passion for music. She gravitated toward the songs of Lauryn Hill, Mary J. Blige and Destiny's Child. But her true, eye-opening moment came when she was 15 and she happened upon a collection of Etta James and Ella Fitzgerald records at a local shop.

"There was no musical heritage in our family," Adele told The Telegraph in a 2008 interview. "Chart music was all I ever knew. So when I listened to the Ettas and the Ellas, it sounds so cheesy, but it was like an awakening. I was like, oh, right, some people have proper longevity and are legends. I was so inspired that as a 15-year-old I was listening to music that had been made in the '40s."

While clearly bright, Adele wasn't oriented towards traditional classroom settings. Instead, her mother enrolled her in the BRIT School for Performing Arts & Technology, which counts Amy Winehouse as an alum.

While at school, Adele cut a three-track demo for a class project that was eventually posted on her MySpace page. When executives at XL Recordings heard the tracks, they contacted the singer and, in November 2006, just four months after Adele had graduated school, signed her to a record deal.

Source https://www.biography.com/musicians/adele
Example #4
The biographical essay example (expert):
Naziyah Mahmood, Rocket Scientist, Multi Black Belt, Renaissance Woman

Where to start with this amazing woman? Scientist for the European Space Agency? Check. Artist and poet? Check. Martial artist fluent in several forms? Check. Woman of peace and faith? Check.

Champion of geeks everywhere: triple check.

"If you let them bully you once, they will do it again and again."

Her father told her that, and her path of self-determination, unyielding curiosity, and fierce protectiveness of everybody's right to fit outside someone else's box has grown ever since.

Nayizah grew up the daughter of an Englishwoman and a Pakistani father in none-too-hospitable Glasgow, Scotland.

One of her earliest memories is of her mother coming home bloodied and crying after a vicious hate attack. Her father put Nayizah and her siblings into martial arts classes, the implicit promise being that no one in the Mahmood family would be bloodied again.

Did we neglect to mention she is also trained in Ninjitsu?

When kids talk about role models and superheroines, they need look If I don't train, I get really restless. I train in the open ground in any weather. I would come home after training in the rain and get told off by my mum! I've trained through storms before. When something like this becomes a part of you, you just can't let it go."no further than Naziyah Mahmood.

She was born with a visual impairment that makes it difficult for her to distinguish a person's facial features unless at close range… yet has trained so diligently that she can stop a sword blade an inch from someone's skin.

This devout Muslim counts as her influences Miyamoto Musashi ("He was an eccentric and his methods were odd, but it just made him more likable!"), Hattori Hanzo, Tomore Gozenshe (a female Samurai warrior), and the one and only Bruce Lee.

All the things I do link together very beautifully and balance out.

So, martial arts master. That'd be enough for tons of people. But Ms. Mahmood decided, Why not get a Masters in Space Mission Analysis and Design, with honors in Physics/Astrophysics?

And enter poetry contests, and contend with the prejudices of those who looked down on a woman of Muslim faith embracing the world of science, and educate people (often without even trying to) around the world about the great buffet that is life, creativity, possibility, and joy.

I like that feeling of being on the edge of learning.
Conclusion
A biographical essay, in addition to entertaining and informative tasks, performs another important function: it helps readers to form their own moral compass and values.
In an essay about the lives of other people, the writer shows examples of how we can find a way out of a difficult life situation, what is the secret of happiness and success, what is the meaning of life, what is good and evil, and where is the line that cannot be crossed, and more.
P. S.: Did you like this post? Please, share it with your friends, thank you! Have a nice day!
Image: freepik.com